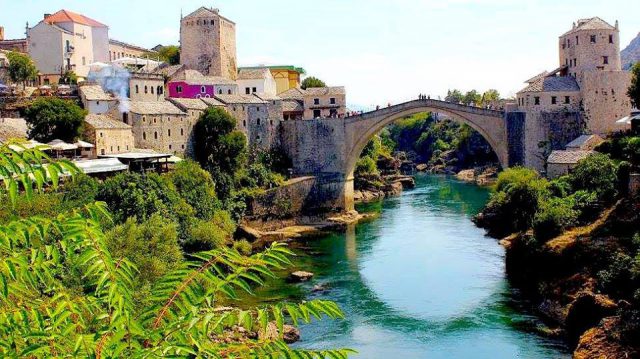 The historic city of Mostar is the cultural, political and financial center of the region of Herzegovina. Unique in its diversity, its charm comes from the cobblestone streets which are woven with the spirit of different civilizations which lived here during the past centuries.
This city is very often called, the city of many bridges, youth and light.
Unique cultural and historic sites are situated in the Old Town as well as the symbol of Mostar is the Old Bridge, which connects the two banks of the Neretva river in Mostar.
In case you have missed it, read our previous story – Six interesting facts about the Old Bridge.
The Old Bridge was added to UNESCO World Heritage list back in 2005. In case you have missed it, see other UNESCO monuments in Mostar.
So how did this scenic city get his name?
Its name derives from the bridge keepers (mostari) who guarded the Stari Most (Old Bridge) over the Neretva in the medieval times.
The bridge keepers would hold a lookout on both towers guarding the Old Bridge, Hara and Halebija. On the east bank raises Tara Tower which was used as a deposit for ammunition in the Ottoman era. The Halebija Tower is on the west side. It was once the prison on its lower floors, and small barracks on its upper floors, also used as a look-out post.
Today Mostar also has three bridges built in the Austro Hungarian period – Musala bridge (1882.), Lučki bridge (1913.) and Carinski bridge(1917.).
In case you have missed it, read more about the Austro-Hungarian period in Bosnia and Herzegovina.