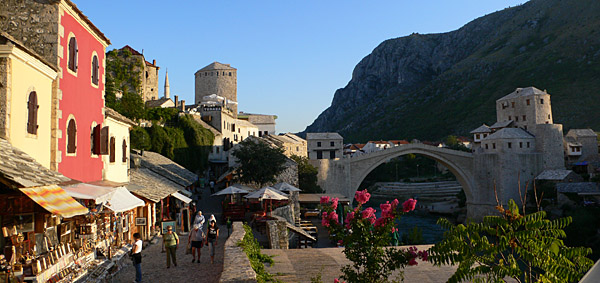 The historic city of Mostar is the cultural, political and financial center of the region of Herzegovina. Unique in its diversity, its charm come from the cobblestone streets which are woven with the spirit of different civilizations which lived here.
This city is very often called, the city of many bridges, youth and light.
Unique cultural and historic sites are situated in the Old Town as well as surrounding the city. The symbol of Mostar is the Old Bridge, which connects the two banks of the Neretva river in Mostar.
Tour Guide Mostar counts down three tips for visiting Old Town in Mostar…
Visit Old Bridge
Stari Most  (Old bridge) is a 16th century, Ottoman-style bridge and Mostar's most notable architectural landmark. Stretching 28 metres across the Neretva river, it connects the two sides of the city.  The bridge was established with two towers guarding it – Halebija and Tara towers. The bridge is pretty steep and the surface slippery. Before going to the Bridge read our previous post – Six interesting facts about the Old Bridge.
Also do not attempt to jump off the bridge yourself. It's dangerous and people have been injured and even died doing it.
Shopping in Kujundžiluk
The Old Town is also well known for its narrow streets with the Bazaar area called Kujundžiluk where many shops sell handcrafts, art and other traditional products. This particular area with its cobblestone streets and smalls hops will impress everyone. In the shops you can buy traditional things such as copper dishes and art work, copper jewelry, art work, Turkish rugs and other handcrafts.
Enjoy local cuisine
How about traditional meals? What to eat while visiting Mostar? There are many restaurants in The Old Town which serve local recipes. In case you have missed it, read our previous post – 5 Best restaurants in Mostar according to TripAdvisor.
The countries favorite meal are ćevapi (chevaps) which are small grilled meat sausages made of lamb and beef.  Ćevapi has its origins in the Balkans during the Ottoman period, and represents a regional specialty similar to the kofte kebab.
The next thing you should eat in Mostar is burek, a meat filled pastry which is traditionally rolled in spiral and cut into sections for serving. The taste of burek will satisfy the taste buds of the biggest food lovers.
And let`s not forget sarma which is made of meat and rice rolled into cabbage leaves. This meal is traditionally made during the winter season as well as for the holidays such as Bajram and Christmas.