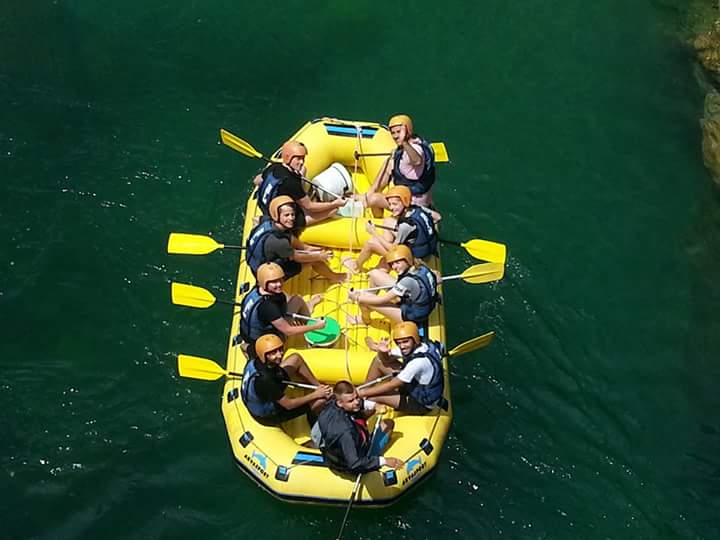 Our beautiful Bosnia and Herzegovina each year offers more and more facilities for tourists. In addition to the many green landscapes and ancient monuments, the increasing attention of tourists is attracted to our rapid rivers that are perfect for water sports such as rafting.
Rafting is worldwide probably among the most popular outdoor activities and our country offers several popular rafting locations thanks to its fast-flowing rivers.
In case you have missed it, read our previous article -Â Rafting in Bosnia and Herzegovina.
Many visitors who arrive to Mostar are interested in Rafting Club "Canyon Neretva". This club has existed for the last three years.
Next to descend Neretva, guests are offered food and drink, depending on what guests want.
Rafting season lasts 4-5 months, depending on the weather it usually lasts in the period from early May until late October.
Rafting Club "Canyon Neretva" team particularly emphasized their two favorite rafting locations – Mali and the Grand Canyon (Mali i Veliki kanjon).
Its length is about 23 kilometers and takes about 5 hours of ride down with beautiful sights of the canyon and waterfalls, which are seen during descent.
As we already mentioned, each year a growing number of tourists is interested in rafting. In addition to guests from all parts of Bosnia and Herzegovina, many guests come from the neighboring Croatian and other European Union countries such as Slovenia, Poland, Germany and Belgium. They were even visitors from distant Kuwait.
The team also pointed out to us that foreign tourists are fascinated by the fact that the water from the Neretva is drinkable.
There are more and more tourists every year in Konjic municipality, and rafting is not the only option which this area offers. The developing of equestrian tourism is growing each season more.
In addition to rafting, which is the main advantage of equestrian tourism, tourists in Konjic can enjoy hiking, camping, rural tourism, kayaking or canoeing and mountain biking.
It is important to mention that from the new season in 2017, the Rafting Club "Canyon Neretva" will offer accommodation in a house on Boračko lake, for the capacity of  20 people.