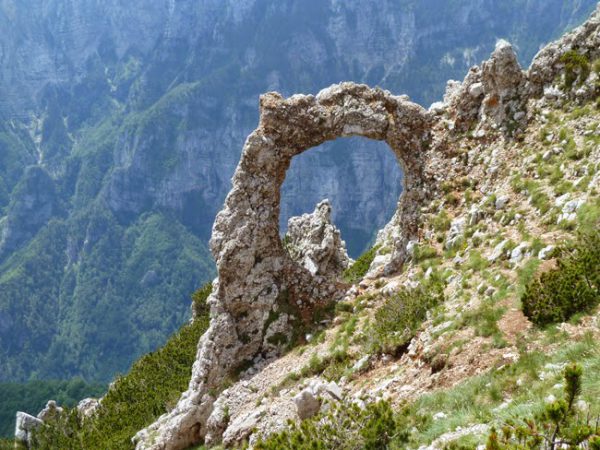 The fertile region of Herzegovina is full of picturesque green valleys, clear lakes, and high mountains.
Natural potential of Bosnia and Herzegovina is very impressive; in hiking circles, one of the most interesting mountain to climb is certainly Cvrsnica.
In case you have missed it, read our previous post – 5 must see landscapes in Herzegovina.
Cvrsnica is one of the highest mountains in Bosnia and Herzegovina. Located in the northern part of Herzegovina and it has the highest peak in Herzegovina (Plosno, 2228 m above sea level). Cvrsnica is located in municipalities: Posusje, Jablanica and Mostar. Because of the extraordinary beauty of its natural environment, this is a regular destination for hikers.
Cvrsnica is protected under the Nature Park Blidinje and its geomorphological object in the form of an arc Hajducka doors or also called Mijatov passage is protected as a natural monument since 1985.
Hajducka vrata is located on the east side of the mountain Cvrsnica, at an altitude of 2000 meters above sea level. This is an extraordinary natural phenomenon of unusual beauty, which causes surprise and admiration. It was created during centuries of natural conditions in this place and they have made a circular hole – a magical ring diameter of about 5 meters.
In nature it is a ring of rocks through which the winds blow, it is situated on the edge of the canyon Diva Grabovica.
From the Risovac ski resort goes the way toward the Hajducka vrata. It takes about 5h and 30min of walk and the climb to reach this unique and special karst form.
From Hajducka vrata you can enjoy nice views of the rock of the Veliki Kuk, Pestibrdo, Cabulja and Prenj.