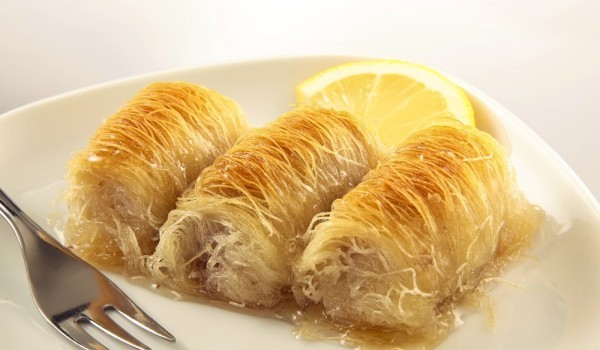 Kadayif (Arabian word) is a sweet dessert made from pastry soaked in sweet, sugar-based syrup, typical of the regions belonging to the former Ottoman Empire. It is a specialty of the Levant and adjoining areas of Egypt and Turkey.
In the past, in Sarajevo, only the aščije prepared kadayif.
The raw kadayif is made from white flour mixed with water to create rare dough. The demirlija (pan) is heated on the stove and coated with butter. Some tend to smear demirlija with wax. Then the dough is poured into a small pot (similar looking like džezva) and then the dough is poured into the demirlija. As soon as the dough gets little burned, immediately it should be taken off demirlija and now you have raw kadaif.
The following ingredients are necessary: raw kadayif, butter, walnuts, raisins, sugar, honey, vanilla, lemon and eggs.
Put the raw kadayif in greased baking dish. After placing kadayif fill it with the raisins and walnuts. You can put a few grains of fat in the middle then bake everything in the oven. Turn the kadayif to the other side while baking if necessary.
Meanwhile, on the side make sherbet (Å¡erbet)Â  by adding sugar in half a liter of water and cook together. Everything is cooked until a thick sherbet is made and then add honey and lemon juice.
In case you have missed it, read our post – Enjoy the taste of Å erbet, gastronomy treat from Bosnia and Herzegovina.
When kadayif is removed from the oven, add egg on the tops. Then let it cool down and the sprinkle gradually with sherbet. Watering should be gradually while kadayif and sherbet both cooling off.
After cooling, kadaif is cut into cubes. In Sarajevo in the past, kadayif was served with olives or black radish.