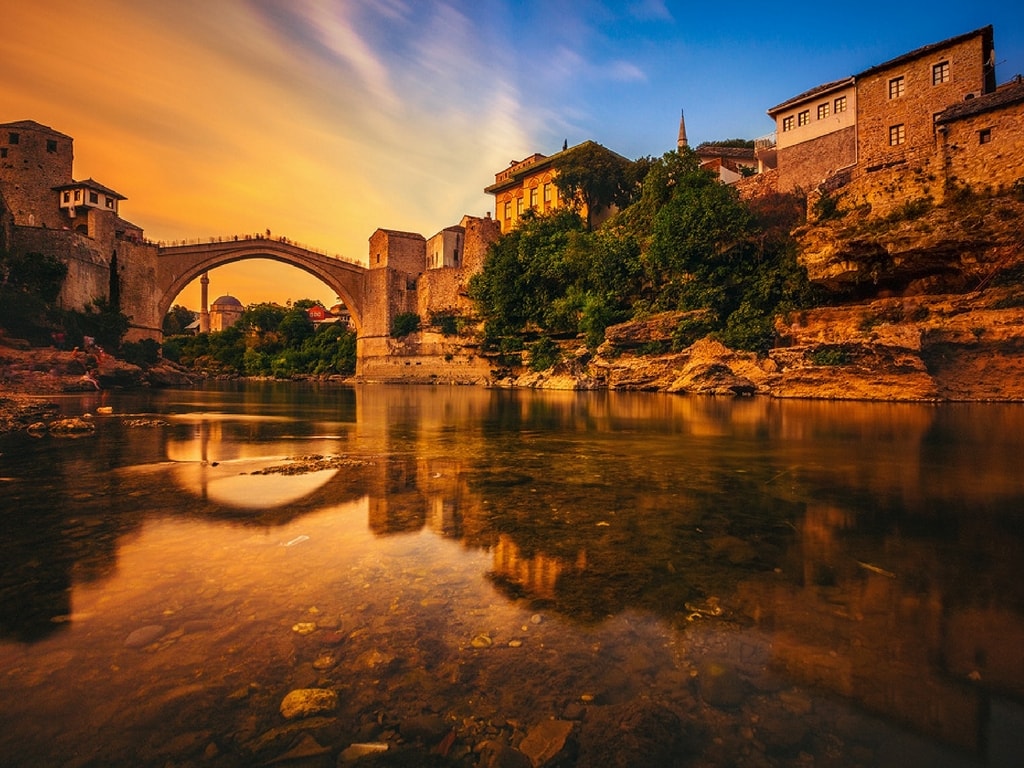 Wherever you go and travel, the most magical time of day is the sunset. As the sun sinks into the horizon and city buildings become stenciled into the sky, that time is perfect for taking breathtaking photographs. With its picturesque landscapes and amazing architecture, the city of Mostar has the best places to watch the sun set down.
We have tips where to watch the sunset in Mostar…
Koski Mehmed Paša Mosque
This historic mosque was built back in the 1619.   by the Turkish architect Kodza Mimar Sinan and today it is considered to be the most beautiful mosque in the region of Herzegovina. It is placed just 150 meters north of the Old Bridge on the very edge of the river bank. When you climb up the narrow minaret stairs at the Koski Mehmed Paša Mosque, you will arrive for the most amazing view of Mostar and Old Bridge.
Old Bridge
Of course this does not come as a surprise, but the Old Bridge which one of the country's most recognizable landmarks, is also the perfect place to enjoy the colors of sunset. The bridge itself is 28 meters long and 24 meters high, and attracts tourists from all across the globe on a yearly basis. Just search "Sunset in Mostar" on the worldwide popular Pinterest and you will be able to enjoy the most beautiful sunset views.
Hum hill
The Hum hill overlooks the whole town of Mostar together with Neretva river and all of its bridges. The local photographers and tour guides take tourist to the top of the hill to enjoy the view. There is also a large cross installation
Towers of Tara and Halebija
On the east bank rises Tara Tower which was used as a deposit for ammunitions in the Ottoman era.The Halebija Tower is on the west side. It was once the prison on its lower floors, and small barracks on its upper floors, also used as a look-out post. Today both towers are a tourist attraction and from their top you can enjoy q full view over the historic Old Town of Mostar as well as enjoy beautiful sunsets.