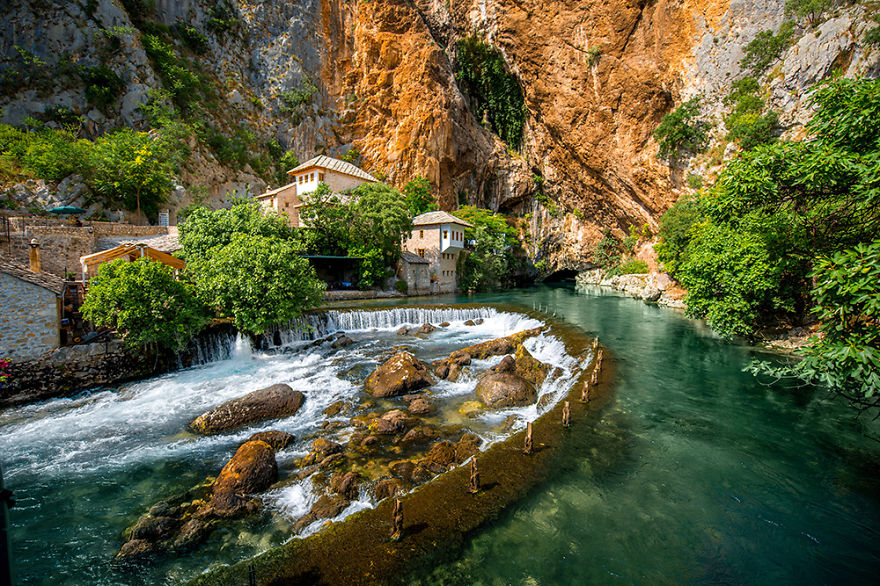 Throughout its history the region of Herzegovina has been the meeting point of different cultures and civilizations. Today the country has a lot of natural beauties that attract more and more tourists each year.
One of the magical places that take us back to the past is Blagaj, situated only 12 km away from Mostar.
The small and magical village of Blagaj is located on the river Buna.
The Buna spring is one of the largest and most beautiful springs in Europe and probably the best example of underground karst river. Buna flows out from the cave beneath the cliffs of 200 meters high and independently creates a dark blue-emerald green river, which runs for about nine kilometers to the west and flows into the Neretva River near the village of Buna.
The beautiful scenery and rich history had been home of dervish house which is one of the most important monuments from the period of early Ottoman culture in Bosnia and Herzegovina.
The Dervishes are known for their special rituals performed and are still performed – zikir (praise to God).
The Turkish sultan was delighted with Buna and so he ordered to build Tekke, the monastery of dervishes.
Tekke on the Buna in Blagaj is an important monument of the early Ottoman period in Bosnia and Herzegovina. It is a place where, by special ritual, the dervishes performed  and perform today " Zikr (praising God).
Tekke in Blagaj belonged to various dervish orders, first there were Bektashi order, then Halveti and Kaderi orders. Today the place is headed by Vekil (Deputy Shaikh) of Naqshbandi order.
Tekke on Buna was established shortly after the fall of Herzegovina under the Turkish rule in 1446. year, at the latest around in 1520. year. In the earliest period, bektash order was the ruling ideological doctrine of the Turkish conquests, especially of the Army (light shock cavalry) and Janissaries.
Oriental Bosnian architecture Tekke in Blagaj attracts with its white double facade, floor and extended along that looks like a balcony, whose contours are reflected on the surface of the dark green water of the river Buna.
Dervish – Sufi brotherhood best known for his asceticism, and in that preaches one of the most mystical dimension of Islam. Tekke at Buna in Blagaj is open to visitors throughout the year and in her beautiful garden, with a magnificent view of the source of the River serves refreshing drinks, tea and Turkish coffee.
Blagaj and its surroundings are surrounded by a diverse landscape, groundwater and rocky cliffs. Tourists all over visit this place remain amazed at his green and clean water that you meet wherever you turn.
If you missed it, please read our previous article – 5 places that you must visit in Herzegovina.