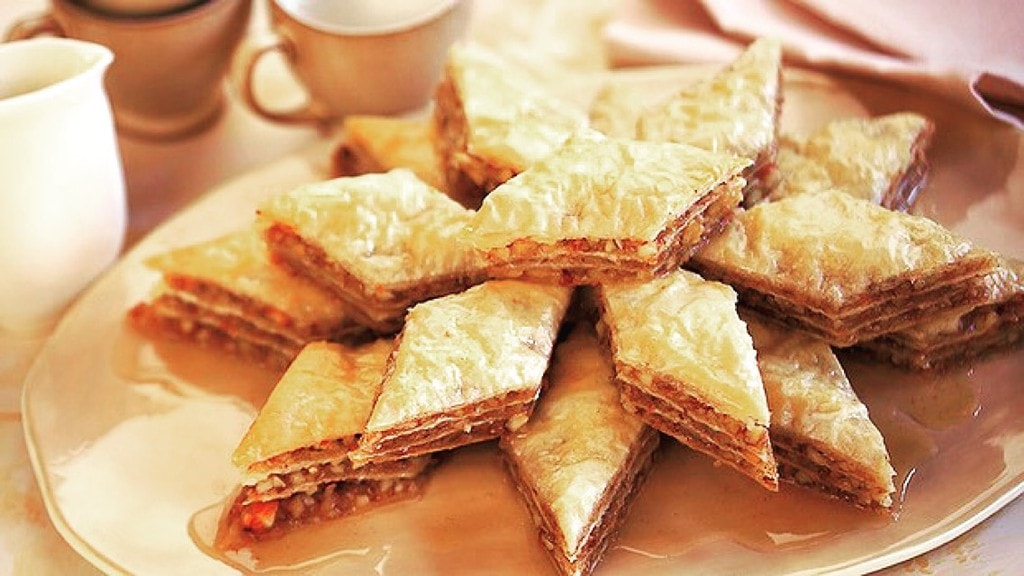 Baklava is one of the oldest Turkish dishes, prepared during the Ottoman era and loved among the members of royalty and harem from the Topkapı Palace in Istanbul.
Baklava is a sweet dish usually prepared for the Bayram holiday (Eid-al-Fitr).
How is baklava made?
This sweet dessert is made of phyllo pastry filled with walnuts and then baked. Thin layers of dough are placed into the casserole, usually 70 layers of dough are used for one baklava. While the baklva is baked, the cook prepares a Å¡erbet made of of water, sugar, lemon juice and vanilla scent. In case you have missed it, see our previous post about Å erbet, gastronomy treat from Bosnia and Herzegovina.
Every cook in Bosnia and Herzegovina will state that her recipe is the best. Although it can be prepared with walnuts, resins, almonds and other nuts, according to the original recipe, only walnuts are used.
In the traditional Bosnian kitchen, baklava is eaten after the lunch, because something sweet always comes after eating salty food.
When coming to Mostar be sure to eat baklava in one of the many restaurants that this historic town has to offer. Try one baklava and you will probably want to eat more. Many locals like to drink kahva and after that eat baklava. In case you have missed it, see our previous post, tradition of coffee in Bosnia and Herzegovina.