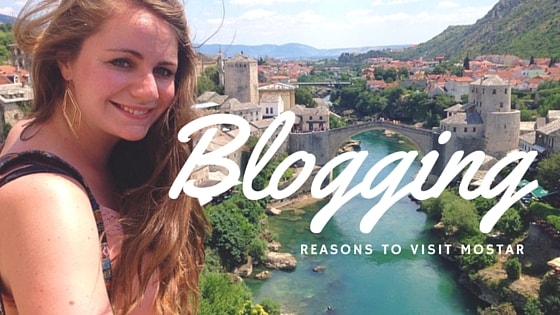 Explorer of places and current events – Sarah Letendre visited Mostar this year.
All credits goes to Mostar Tourist Adventures as well as to trustworthy and professional tour guide Dženan. With this message we would like to thank Dženan for sharing good vibes and positive energy from our hometown. You can contact him at +387 61 561 451 .
Read her travel tips about traveling to Mostar.
Every place I've ever had the pleasure of visiting has etched a special memory in me, but some places are extra special and leave a deeper mark on your heart. While I have treasured every adventure and place I've seen, there are a particular handful of them from which I have walked away feeling completely and utterly changed. For me, Mostar, Bosnia and Herzegovina is among this significant and unique group of places.
Here are 12 things to do in and around Mostar to help you also discover the magic of this remarkable place:
1. CHECK OUT THE VIEW FROM KOSKI MEHMED PAÅ A MOSQUE
Our Mostar adventure commenced with a trip to one of the city's top sites to see, the Koski Mehmed Paša Mosque. Although there is a fee to enter the mosque and climb the minaret, I was undoubtedly glad that I had paid it, for the experience was remarkable. The mosque, although small compared to many of the others I have visited, was quite nice and offered a lovely interior. 
The real treat, however, was the view from the top of the minaret. Accessible only by one extremely narrow spiral staircase, the climb to the minaret's top is not for those with a propensity towards claustrophobia or even acrophobia, although the marvelous view of Mostar from high above might be enough to make one reconsider. 
When I reached the top of the minaret and suddenly saw the sweeping views of the beautiful city below and mountains in the distance, it was as if I had suddenly been transported to a fairytale land. Really it was the sort of breathtaking view that forces one to later question whether the experience was dream or reality… and the let's say "humble" balcony at the top of the minaret made the experience all the more exhilarating. 
The ticket for the mosque entrance also gave us access to a small garden area that too had impressive views of the city along the river, namely of one of Mostar's focal points: the Old Bridge. 
2. WALK ACROSS STARI MOST
Having seen the bridge rather impressively from afar, we were eager to check out the Old Bridge up close and walk across it. Returning to the cobblestoned path just beyond the Koski Mehmed Paša Mosque, we weaved through the town until we reached the famed bridge.
The Old Bridge, or better known locally as Stari most, is a point of both cultural convergence and historical significance in the town, making it Mostar's most sought after attraction. The name Mostar itself stems frommostari, referring to "the bridge keepers" who watched over the bridge during medieval times. Although destroyed in 1993 during the Bosnian War, Stari most and the surrounding Old Town have since been rebuilt as a UNESCO site, as historically Stari most has represented multicultural coexistence and reconciliation.
Stari most really was an impressive architectural feat, and certainly worth the stroll across, though be careful and watch your footing (or better yet, just make sure you're wearing sturdy footwear), for the cobblestones are well worn, and consequently the stroll across the bridge is a somewhat slick one.
Note: You will almost certainly see some very fit young men (likely sporting modest black Speedos) hanging out on the bridge, collecting money from eager and curious tourists (much like yourself). Once enough money has been collected, these men dive over 78 ft (24 m) into the frigid waters of the Neretva River below.*
3. LUNCH WITH A VIEW
During our first day in Mostar, we were content taking it easy and reveling in the pure beauty of the town all day. Finding that Bosnia really was quite affordable for the young, penny-pinching tourist, we decided that it was the perfect afternoon to treat ourselves a little bit by enjoying lunch at one of the many cafes that line the river.
4. UNCOVER TREASURES AT THE BAZAAR
While you're hanging out in the historic town, be sure to spend some time going through the shops inKujundžiluk (I only dream of one day being able to pronounce that), the old town bazaar. Named for the metal artisans who worked there, Kujundžiluk has traditionally been the domain of the local craftsmen and women of Mostar. The artisan tradition lives on today, as the streets in the area are lined with shops selling jewelry, souvenirs, and other fun items. Kujundžiluk spreads out from Stari most on both sides of the Neretva. 
5. DRINK BOSNIAN COFFEE
Perhaps one of the most Bosnian things you can do while in Bosnia is drink a Bosnian coffee. Similar to Turkish coffee because of the deep-rooted Ottoman influence in Bosnia and Herzegovina (the region was under Turkish rule for nearly four centuries after all), Bosnian coffee is very thick in texture and strong and bitter in taste. 
Bosnian coffee, however, differs from its Turkish equivalent not only in how it's prepared, but also in how it's served. Typically, Bosnians serve their coffee in a džezva on a round metal tray alongside a glass of water, an empty cup, a dish with sugar cubes, and a rahat lokum (a candy that resembles the taste of a Turkish delight). The džezva plays a significant role in the Bosnian coffee tradition because it helps keep the coffee hot for a longer period of time, which is crucial, as Bosnians are known to sit for hours on end, enjoying their coffee and each others' company. 
Eager to try some Bosnian coffee and savor that tradition, we found a sweet outdoor café on the banks of the Neretva, where we could enjoy the afternoon, while watching locals dive from atop Stari most and into the river. 
6. WANDER MOSTAR & ENJOY THE SUNSET
Although the historic part of Mostar is lovely, I would highly recommend getting out of the Old Town and wandering the surrounding area. While the bulk of the touristy things are concentrated in the historic town and around Stari most, I found that by getting out and exploring a more authentic side of Mostar, one can obtains a better glimpse into the a more recent part of Bosnian history: the Bosnian War.
For me, one of the most significant outcomes of my travels through Bosnia Herzegovina was greater understanding of the Bosnian War (1992 – 1995), a violent and largely ethically rooted conflict that resulted in the displacement of millions and death of over a hundred thousand people. I highly recommend familiarizing yourself somewhat with not only this conflict, but also with the other related conflicts that erupted in former Yugoslavia during the 1990's before embarking on a trip through the Balkans, for the repercussions and perhaps even many of the sentiments from these wars are very much still prevalent in the region. 
Although Mostar has largely been rebuilt, much of the damage from the war is still visible, whether it's structures that have yet to be reconstructed or bullet holes forever imprinted in building walls. 
After wandering for a bit, we encountered a nice rooftop bar called E.T. (perhaps named in reference to Spielberg's beloved alien??!). Although it was nothing extraordinary, I found it quite perfect for savoring a well-mixed (and inexpensive!) gin and tonic while watching the sun settle behind the mountains. 
7. GRAB A BEER AT BLACK DOG PUB / MAYBE EVEN MEET A STRANGER WHO TRANSFORMS YOUR PLANS FOR THE FOLLOWING DAY AND LEADS YOU TO SPECTACULAR PLACES AROUND MOSTAR (BUT NOW I'M GOING TO TELL YOU ABOUT THOSE ADVENTURE, SO YOU DON'T ACTUALLY HAVE TO STRIKE UP A CONVERSATION WITH A RANDO)
Always keen to try local beers, we later made our way to the Black Dog Pub. Situated back in Old Town on a subsidiary of the Neretva, Black Dog Pub offered a pretty neat selection of tasty beers. 
The open atmosphere of Black Dog Pub and closely packed patio seating (it had only moderately cooled down from the day's blistering heat, so everyone wanted to be outside in relative coolness) eventually led my friends and I to strike up conversation with a group of travelers next to us. 
Shortly thereafter, they were joined by their tour guide from the day, a local named Dženan, and it wasn't long before we were chatting with Dženan about our plans for the next day. We had been hoping to take a taxi or rent a car to reach some famed waterfalls outside of town. As it turns out, Dženan, who worked as a guide for Mostar Tourist Adventures, had several suggestions as to where we ought to check out. Moreover, he was down to take us on an excursion to all of these places. We agreed on a time and place to meet the following morning.
Now, I know what you might be thinking – I was skeptical too. It sounded a little too good of a deal to be true – did we really just get that lucky? Was the universe rewarding us for our lack of planning? And who was this guy even?? Even though the group of tourists with whom he had met up vouched for his credentials and we saw his business card, I had doubts that he would even show up the next morning. 
Well, he did indeed show up, and apparently good fortune was completely in our favor, for it was an amazing day of adventure and travel!*.Our tour with Mostar cost about 30 euro each (it was some of the best thirty euro I have ever spent). If tours ain't yo thang, you can also rent a car or taxi for the day to take you around to the following sites for a fairly reasonable price.
8. FIND PEACE AT BLAGAJ TEKIJA
Day 2 in Mostar commenced with a visit to the lovely Blagaj Tekija. Because of its combination of natural beauty and human ingenuity, Blagaj Tekija is one of the most unique destinations I encountered during my trip through the Balkans. 
Only a 15 minute or so drive outside of Mostar, it didn't take us long to reach this Dervish monastery. Likely named for the mild climate, blaga (though I personally found difficulty in relating to the reasoning behind this because when we were there in the middle of a Bosnian heat wave, it was hot as f***), Blagaj Tekija was constructed around 1520 during Ottoman occupation in Herzegovina. The site was reserved as a special place for Dervishes to perform special rituals. 
I found Blagaj Tekija most remarkable for its pristine location. Blagaj Tekija is situated at the spring of the Buna river, one of the strongest karstic springs in Europe. The result is a site of incredible beauty. 
While at Blagaj Tekija, I recommend enjoying the serenity of the monastery and surrounding area. We found a spot overlooking the spring waters at the restaurant located at the site, where we ordered Bosnian coffee and Smokvara, a traditional Herzegovinian fig cake.
9. CLIMB THE OLD FORTRESS AT POÄŒITELJ
Our next stop was the historic village of Počitelj, a well-preserved and once strategic fortress in Bosnia & Herzegovina. The picturesque Počitelj skyline is dominated by a large octagonal fortification called the Gavrakapetan Tower. It's certainly a bright idea to make sure you're sporting some good shoes because the climb to the top can be mildly precarious at points, but the view from above is nothing short of spectacular.
After reaching the fortress' top, Dženan mentioned that he had heard about a woman who lived near Gavrakapetan Tower and specialized in making homemade juices. Content with adventuring further, we continued hiking further up the hillside, as our guide sought out the infamous juice-maker.
It wasn't before long that Dženan appeared to find the house he was searching for. After disappearing momentarily, our guide returned and introduced us to the most darling Bosnian woman. 
And that is how we came to experience one of the most eye-opening and magical experiences of the afternoon. For quite some time that day, we reveled in the beauty of the moment, while sipping homemade and freshly squeezed juices and nibbling on homegrown figs, as we listened to old stories from the war as told by this woman and translated by Dženan. Her home was built amongst both ruins from the fortress long ago and those from the conflict of the 1990's when soldiers had occupied her residence after they took the city.
Needless to say, it was one of those remarkable moments in which one senses the vast human interconnectedness and generosity of strangers. 
10. GO SWIMMING AT KRAVICA WATERFALLS: A HIDDEN PARADISE
Imagine this: on a gorgeous, sunny day you've swum across a marvelous natural pool of water, surrounded by cool, capacious, cascading falls. You reach a large, flora-ridden boulder positioned in front of the falls, where you proceed to pull yourself out of the water, navigating pokey rocks and slippery algae. Finally, you've climbed up high enough so that you're completely behind the boulder and the lake is out of sight; but you're overcome with wonderment, for when you look up, you are steps away from those splendid, 80 foot high waterfalls that emulate grandeur comparable to that of Eden. 
It's a moment not short of magical, and you're so taken back with the in-your-face beauty of the experience that you can do nothing but stare up with your jaw wide open in astonishment, as you try to soak up ever bit of sublimity from the moment. 
When you're content with the time you've spent there, you decide to climb on top of the boulder for a view of the pool and falls from above. Everything looks magnificent from up there too, but you suddenly find yourself in a bit of a pickle: if you return the way you came, you're bound to slip and fall, for it's slippery and abrupt at points. However, there is one other way down… and abruptly, before you change your mind, you're jumping off the boulder and falling through the air into the aquamarine water below. 
Did you imagine it? Good, then go experience it for yourself because that was exactly how I spent my afternoon at Kravica Falls, and it was beyond spectacular!
Kravice Waterfalls, known more locally as Kravica, is a site not to be missed while in Bosnia. It is a place that has yet to be completely overwhelmed by the influence of mass-tourism. For that, I only found the falls even more enjoyable, as it remains a place where locals too go to relax and unwind. 
I recommend packing a picnic and perhaps even grabbing a coffee or beer from the café located next to the falls. If you do decide to do something borderline crazy like jump from that boulder, definitely take the time to watch others do it first and scope out the water surrounding it because some areas are rather shallow. 
11. MARVEL AT THE VIEW FROM ATOP HUM HILL
Just before the sun went down behind the mountains, we made it to the top of Hum Hill, one of the mountains that rise above Mostar, where we witnessed a lovely view of the city and surrounding mountains. Â 
Although there apparently is a walking trail to the summit, we reached the top by means of a winding road. Marked by a distinct, 100-foot high (and rather highly disputed might I add) cross at the top, Hum Hill was a point of strategic advantage during the war, and it is highly recommended that one stick to the marked path, as the hillside remains potentially littered with land mines. Â Â 
12. ENJOY A RELAXING EVENING IN MOSTAR
After a long day of adventuring (tough life I know), some nourishment and relaxation is absolutely necessary. Per recommendation of our tour guide, we had a delicious meal at Food House. I recommend the Traditional Bosnian Meat Platter alongside some local beer. It was cozy, open, fun, and the perfect place to reflect on a wonderful day, while enjoying some traditional eats.
Continue to unwind by going to one of Mostar's hippest lounges Ali Baba's. This place has rad beats, good drinks, a cool atmosphere, oh and did I mention it is in a cave?!? How could you pass on that?
IN CASE YOU MISSED IT