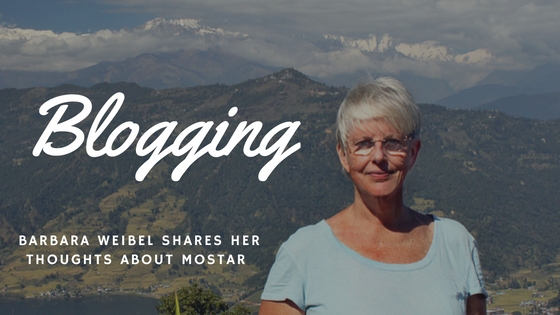 Many people have supported us on our Tour Guide Mostar journey and one of them is Barbara Weibel, the owner and editor of Hole in the Donut Cultural Travel website.
This passionate travel writer and blogger visited Mostar last year but our beautiful hometown has left a big impression on her.
Read her thoughts about Mostar…
After nearly ten years of travel, destinations have begun to blur in my mind. Once in a great while, however, I visit a place that is so memorable, so unique, that it carves a special niche in my memory.

Mostar was one of those places.

The polished round cobblestones of old town sparkled in the sun and brazen young men leaped from the Stari Most (Old Bridge) to the dangerously narrow blue-green waters of the river far below. Ancient minarets and crenelated white stone towers punctuated the skyline.

All this would be quite enough, but the people of Mostar made it even more special.

Unlike other places, where people would rather forget the war-torn years, Mostar residents were eager to share their stories and to help me understand the convoluted history in this part of the world.

Mostar is one city that has made it permanently onto my list of favorite places in the world.